[ad_1]

Are you looking for the ultimate guide on eloping in Ireland? You've found it! After living in Ireland for over three years and having visited every nooks and crannies of the Emerald Isle, we thought it was time to put together a detailed guide on how to elope in Ireland and the best places to elope in Ireland.
From everything you need to know about how to plan a wedding in Ireland to planning a Northern Ireland elopement, our romantic travel guide covers every bit of information you may need including the legalities of eloping to Ireland and eloping in Ireland packages.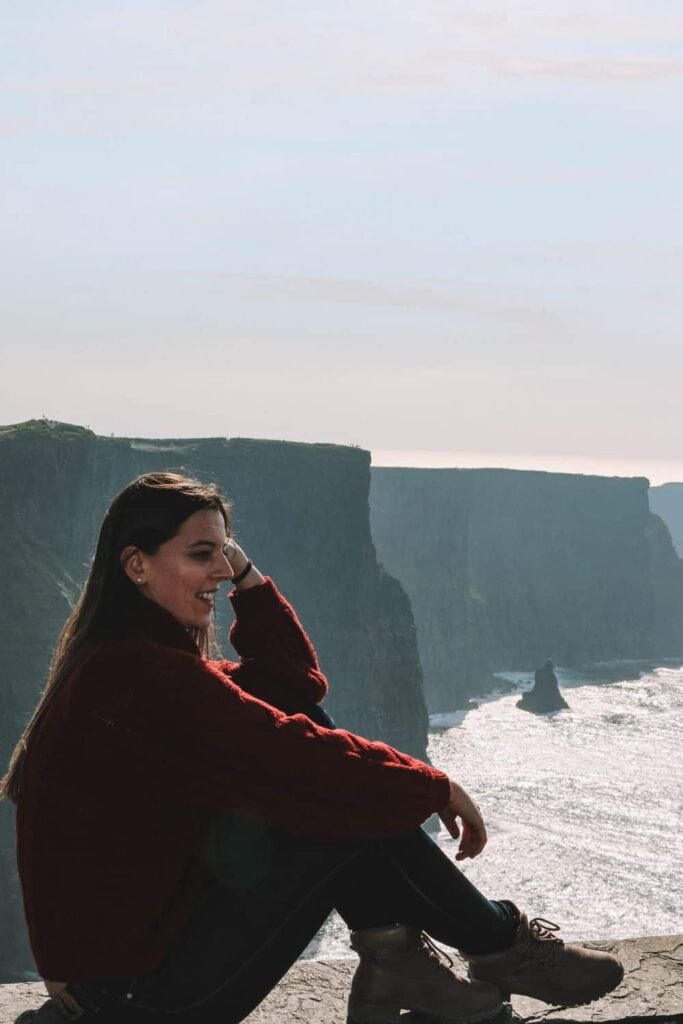 ***Some of the links in this post are affiliate links meaning we earn a small commission at no extra cost to you. This does not change the fact that we only recommend products, stays, activities and attractions we are satisfied with and all opinions expressed here are our own.
How do you elope legally in Ireland?
Before going into the fun part of eloping in Ireland, we need to go over the legal considerations of eloping in Ireland, in particular answering how to legally elope in Ireland. To cover this point, we split this section into different situations you may be in along with practical information.
For couples who are already married in their home/residence country
This is the easiest and most practical situation you could be in to elope to Ireland. Most couples who choose to elope in Ireland decide to get all the legalities done before coming to Ireland. This means that you can choose to get married in your home country and then come to Ireland for the ceremony. For many, this makes the process a lot simpler as most of us are more familiar with the rules and processes in our own country. It also means that you are officially married under your residence country's law which can have certain benefits in terms of matrimonial rules.
Note also that most countries require you to give notice, in person, of your marriage at least a month, sometimes more, ahead of your wedding. This is the case for Ireland (see next section), meaning you would need to travel to Ireland a few months before your actual elopement to get the paperwork done. This can mean additional costs, and possible issues if some documents are not printed the right way for example.
Getting married in your home country and then eloping to Ireland for the ceremony means that you can focus 100% on the ceremony on your actual wedding day rather than all the paperwork. 
For couples who want to get legally married in Ireland
Legal requirements in the Republic of Ireland
Not everybody can get married in Ireland. To be able to get married in Ireland you need to be over 18, not married anywhere else and have the capacity to get married. 
Ireland accepts same and opposite sex marriages. 
The bride and groom need to be present on Irish soil for at least 3 months before getting married. Your registration can be mailed in through the post if spouses are outside of Ireland but this is something you need to apply for. 
Future spouses need to appear in person before the Registrar at least 3 months before the elopement
Different types of marriage are available: civil, religious, secular
You will need two witnesses. Often times, this can be the photographer and the videographer if you are not bringing any guests with you.
Your ceremony must be done by a registered solemniser or a humanist
Your ceremony must take place on a location with a postal address or, alternatively at an identifiable landmark. the location must be accessible to the public.
Unlike getting married in Montana, you don't need to get a blood test to get married in Ireland
Requirements in Northern Ireland
Rules are similar for the most part
You will need to give notice of your marriage within 12 months of your elopement.
You can get married at any location even if that is the edge of some random cliffs away from any human life!
Before booking your elopement in Ireland, check with your home country's registrar or city hall that an Irish wedding certificate is recognised by their laws. For the USA, you will need to contact the office of the Attorney General of your state of residence in the United States to obtain confirmation that it is the case for an Irish marriage certificate. You can check this website in the USA and this website in Ireland for further information. 
Why you should elope in Ireland
Stop looking for eloping in Ireland reddit answers from strangers that may have never even stepped foot in Ireland! We've lived in Ireland fo years and have explored the country and island as a couple many times. Eloping to Ireland is an absolute dream for many couples so let us tell you why you should elope to the Emerald Country. 
Ireland offers a wide variety of landscapes that can cater for all tastes! From stunning dramatic cliffs to long strand of golden sands, national parks, magical forests and castles, there is something for every couple that wishes to elope in Ireland. The variety of landscapes can be used to have an adventuring elopement or a more chill elopement.
Eloping in Ireland is also quite easy with Ireland being an accessible country from all over the world. Between Dublin airport, Belfast airport and even London airport that can act as a bridge, there are flights from all over the world to Dublin. In addition, a lot of nationalities outside the European Union are free to visit Ireland without a visa which makes it extremely easy to come for a couples of day to elope.
Eloping in Ireland is also a great idea if you want to have a stress free wedding ceremony. There are plenty of elopement packages available in Ireland from a range of prices that can cater for small and big budgets. These are great if you just want to show up and enjoy your day!
Another reason why you should elope in Ireland is because it allows you to combine your wedding day and your honeymoon all in one, which means also cutting costs! My American sister (from my time living in Idaho) actually eloped to Ireland and absolutely loved it! They got to spend a bit of time driving around Ireland and getting to know the country while also getting beautiful photos in their wedding outfits!
Which takes me to my next points: the photos. Wedding photos are something you will still be looking at twenty years from now so why not make them unbelievable? Ireland sure has what it takes to turn wedding photos into your best memories. Though the weather isn't always sunny, it definitely makes for a relaxed atmosphere and great pictures!
The best Ireland elopement locations
From opting for a Cliffs of Moher elopement to going eloping in Northern Ireland, you'll find the best Irish elopement locations in this section. If you want to elope Ireland style, there are a few things to take into account when choosing an elopement location. Though some places might look stunning, there may not be adapted to an elopement, depending on several factors such as the weather, the bride and groom physical condition, or your style. We've visited most of these spots together several times so we brought our personal experience to you so you can be best informed about each place and what suits you.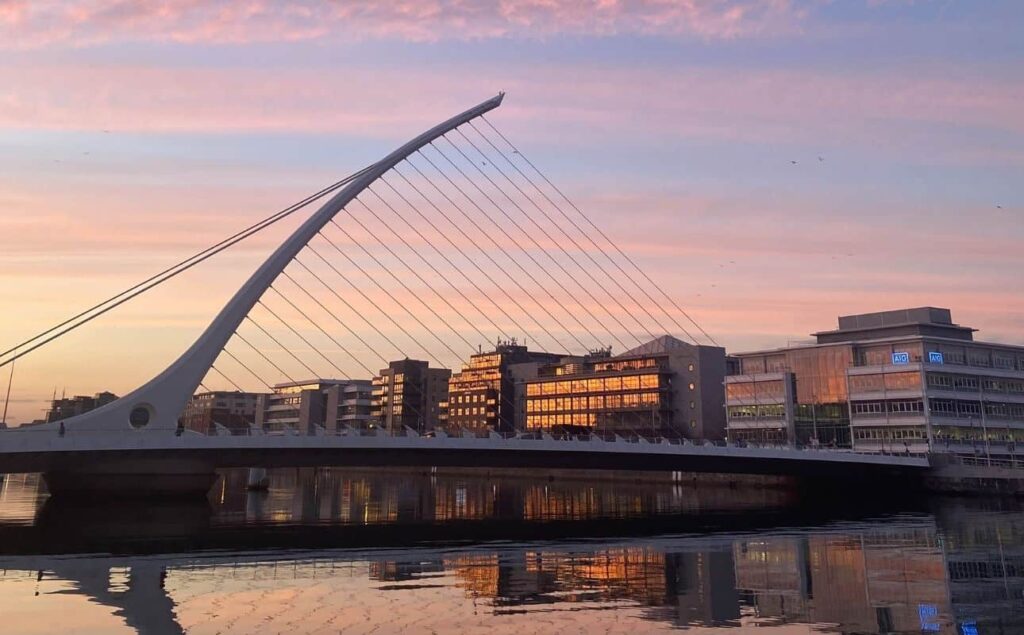 1. Eloping in Ireland Dublin
What would be a more obvious option than eloping in Dublin Ireland? Dublin is the capital of the Republic of Ireland and is located right on the water. It is home to Dublin castle, the Liffey River, and numerous historical buildings such as Trinity College and the Book of Kells. Dublin offers endless possibilities for wedding photos and activities for couples to do afterwards. If you want to get married in the core of the action, eloping in Dublin or Dublin County is a great idea. but first let's see where you cannot get married in the city!
Dublin Castle's rooms can be hired for events but unfortunately those do not include elopement ceremonies. In the same vein, though Phoenix Park would make for a great ceremony location, you cannot actually hold the marriage ceremony in the park. That said, you are allowed to come to Phoenix Park to take wedding photos. You will need a free permit to do so which you can get here.
Locations where you can hold your elopement wedding Ireland's capital offers include Rock Farm Slane and Killiney Hill. Kiliney Hill is absolutely gorgeous and offers 360 view on Dublin, the sea and the Dublin Mountains!
2. Malahide Castle
Malahide Castle is a castle located in Malahide about an hour by train north of Dublin City. It's a stunning and still standing castle dated back to the 12th Century. The castle stands on lush green grounds surrounded by cute apt, fairy gardens and flower gardens. The facade of the castle is astonishing with greenery climbing around the towers and windows. It feels like a true fairytale castle!
We visited Malahide Castle several times when living in Dublin and loved our visits. The town of Malahide is accessible by foot in just a few minutes from the castle if you'd like to end the day at a restaurant or local pub.
Malahide Castle can cater for weddings and couples should inquire directly with them to tailor the ceremony to their preferred needs. 
3. Castle Island
Do you want to get married at a real Irish Castle and on an island! Look no further! Castle Island is a resort located in Waterford on a private island. Though the location is dreamy and unique, it is located only 10 minutes from Waterford City. 
The castle is a proper resort with splendid towers, stone walls, large windows and greenery climbing onto the outdoor walls. As it's located on private grounds, it is also home to a variety of fauna including squirrels, foxes, badgers and deer. The resort also includes spa facilities.
You can find more information about getting married at Castle Island here.
4. Wilton Castle
For a castle elopement in Ireland, you can also pick Wilton Castle. Wilton Castle is located in County Wexford. It dates back to the 13th Century and is recognisable by its chimney stacks and turreted towers. With stoned walls, green grounds and peaceful scenery, it's a great location to elope. You can find more information about Wilton Castle here or contact your elopement planner directly.
5. Menlo Castle, a top castle elopement Ireland has to offer
Menlo Castle has got to be one of the most unique castle elopement locations in Ireland! This castle dates back from the 16th Century. Though it is now in ruins, its walls still stand and have been climbed by leaves and greenery, making it look like a cushioned castle. It stands on green grounds surrounded by peace and quiet. 
This castle is absolutely gorgeous for an elopement ceremony and you can be guaranteed you won't be disturbed by crowds here. You'll find Menlo Castle about 10 minutes from Galway which is very convenient as well.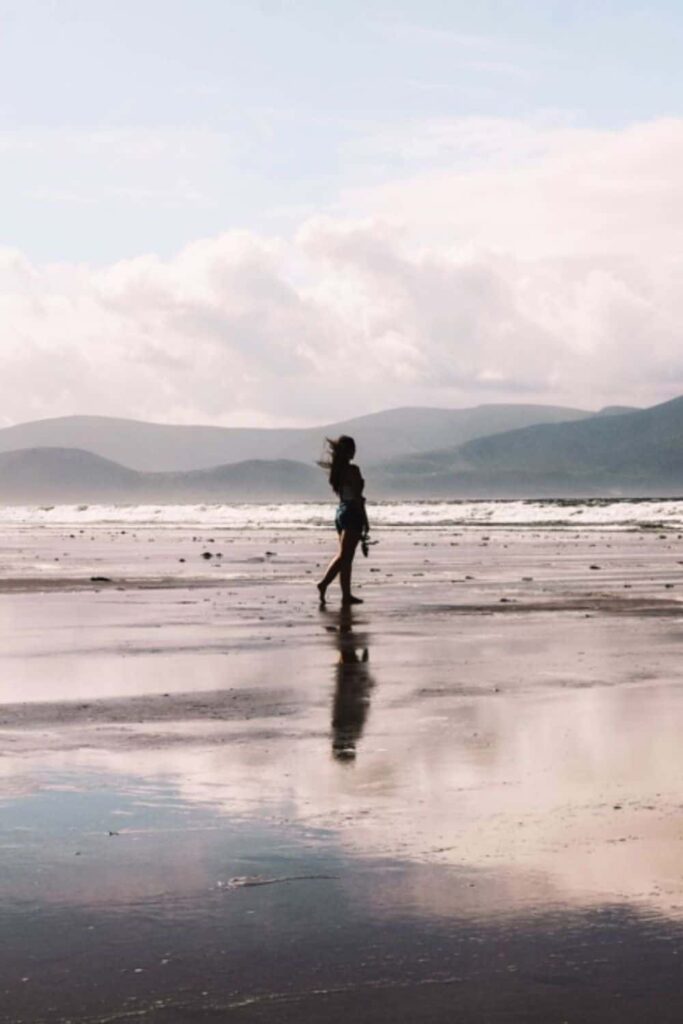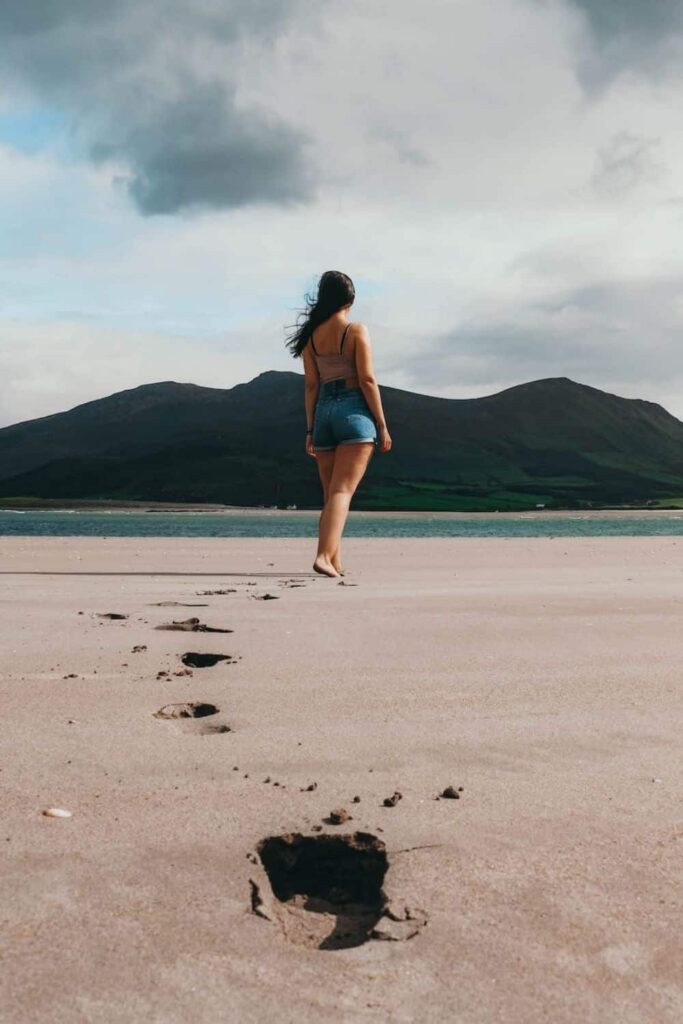 6. Dingle Peninsula, one of the most picturesque places for eloping in Ireland
The Dingle Peninsula is located in County Kerry, which is often one of Irish people's favourite counties. County Kerry offers a wide range of different sceneries including the Dingle Peninsula. We have a full guide on the Dingle Peninsula here if you're interested in looking at our own stay there. 
On the Dingle Peninsula, one of the best places to elope is Inch Beach. This gorgeous strand of golden sand looks out to the Ring of Kerry Mountains and offers stunning views on the water. You can get married on the beach, if the tide is low. Some couples decide to get married at Sammy's restaurant on the beach instead. 
In addition, other top places to elope on the peninsula include the Sea Head Drive and Dunquin Pier, Clappagh Beach, a stunning isolated and quiet beach reminding us of Reunion Island, and Ventry beach. 
7. The Mourne Mountains, to elope Northern Ireland style
The Mourne Mountains are located in County Down in the south of Northern Ireland. It is a granite mountain range that offers endless locations for an Irish elopement. If you are fond of hiking, you could hike for a couple of hours to find remote spots that no other couples has gotten married in. If you don't care for hiking, then you could drive along the mountains and find beautiful spots accessible with less than five minutes of walking. There is something for every couple at the Mourne Mountains!
By getting married here, you'll then be able to head to other Northern Ireland hot spots like the Causeway Coast as they are close by. 
8. Howth, a stunning harbour for eloping in Ireland
Howth is a stunning fishing village located about 30 minutes north of Dublin city. It sits right on the water and offers a range of spots to elope. The best place to elope in Howth is Howth Head. You can check out hot to get to Howth Head and the different paths in Howth Head here. Howth Head is quite large so even though it tends to be busy, it's easy to find a quite spot overlooking the water. It does get windy on that side though so be prepared for that. On a sunny day, you'll get views on the sea but also on the port and on the coast. It's quite beautiful and the path is dry and in good condition with gravel so you won't get muddy. 
9. Ballintoy Harbour
On the Antrim Coast in Northern Ireland, you'll also find Ballintoy Harbour, a charming fishing village. Fans of Game of Thrones might recognize this area as the Iron Islands from the TV series. If you're a Game of Thrones enthusiast then you will enjoy getting married here. On top of that, Ballintoy Harbour offers a range of different spots with white cliffs, dark cliffs, rock formations, the beach. 
This place is also close to other Antrim Coast's hot spots such as Dunluce Castle so you have a range of possibilities when it comes to photos and could possibly hit several spots during the day!
10. The Slieve League Cliffs
County Donegal is known as being one of the most beautiful counties of Ireland. Located in the Republic of Ireland, the Slieve League Cliffs are famous among nature lovers. The cliffs stand at 601 meters (1,972 feet) and provide crazy views on the Atlantic Ocean and surrounding areas. Reminding us of the Cliffs of Moher with lush grounds contrasting with the dark blue water, the cliffs also host a range of wildlife species such as sheep and sea birds.
It's best to check with you elopement organiser what part of the cliffs are best on the day as they can get very windy. There is a hike called the One Man's Path that you can take and pick a spot along the way though it is a bit of a more challenging path. 
11. Corcomroe Abbey
We haven't talked about County Clare yet though it also has some elopement locations to offer. One of them is Corcomroe Abbey. With tall arches, still standing walls and former window holes that provide rays of light, this is a stunning location for your Irish elopement. 
One of the great advantages about getting married at Corcomroe Abbey is that you'll be sheltered from the unstable Irish weather and will be able to hold your ceremony no matter what. The abbey is located about an hour drive from Galway and about 45 minutes from the Cliffs of Moher making it easy to get to and from. 
12. The Connor Pass, Co Kerry
The Connor Pass is one of the highest mountain passes that is crosses by a full on asphalt road. It crosses the Dingle Peninsula from north to south and provides absolutely breathtaking views on each side of the peninsula. We drove the Conor Pass during our visit to the peninsula. Even though it was a grey day, the view on the peninsula, Kerry and parts of Cork was stunning and it was surprising at how far we could see! 
On top of the view, the Connor Pass is also beautiful by how lush green it is. On the winding drive to the top, you can expect to see sheep or cows chilling along the side of the road. This is another great spot for outdoors enthousiasts, especially on a nice day, to hold your elopement ceremony. 
13. White Park Bay, Co Antrim
Another elopement location on the Antrim Coast is White Park Bay. This is a bay that offers an opportunity to explore the authentic Ireland. The bay extends for several kilometres and offers a beach with thin golden white sand and blue waters. 
White Bay Park offers several elopement locations. First you can decide to hold your ceremony on the beach itself. Note that the beach is part of a farm and therefore cows might be part of your wedding! Alternatively, there are several spots along the drive that takes you to the beach. As the drive overlooks the beach, it's absolutely beautiful and would make for great photos of the scenery.
14. Dunseverick Castle, Co Antrim
This has got to be one of our top picks for Ireland elopement locations. Dunseverick Castle is located on the Antrim coast in Northern Ireland. Though it's not looking much like a castle anymore and is rather just a couple of ruins, the location is close to being the most stunning out there. 
The grounds of Dunseverick Castle are lush green with hills and boulders which give dimension to the area. Imagine standing on the edge of the cliffs, with the castle in the background and your white dress contrasting with the green of Ireland… Stunning! The boulders and cliffs also shelter you a bit from the wind which might be more comfortable than other locations like the Cliffs of Moher.
We would definitely recommend heading to Dunseverick Castle for a sunrise of sunset elopement for the best light! This is the best Ireland elopement location if you want to mix a castle elopement with a cliff elopement
15. Murlough Bay
Another elopement location in Northern Ireland is Murlough Bay in County Antrim. The Bay offers absolutely stunning grounds with tall clings and weirdly shaped boulders in the background. The view on the ocean, the fields and the cliffs make it look like an absolute dream! The grounds are a mix of green grass, and dry grass giving your photos and even more dramatic look.
The biggest advantage of Murlough Bay on top of the incredible scenery is that very few people actually come here. So you'll likely have the space all to yourself to hold your ceremony in a peaceful atmosphere. 
16. Cliffs of Moher Elopment, one of the most typical places for eloping in Ireland
Standing at 214 meters (702ft) above the Atlantic Ocean, the Cliffs of Moher are probably on top of your list of elopement locations in ireland. And for good reasons! The Cliffs of Moher are absolutely breathtaking. From the lush green grounds to the dramatic side of the cliffs and the contrast with the blue of the Atlantic Ocean, there are no doubts that they make for a great elopement spot! 
As this is a top touristy spots, the Cliffs of Moher are pretty much always busy unless there is a storm coming up. As such, holding the ceremony on the tourist grounds may not be just what you're looking for. Instead, you can rent a section at Hags Head from a local farmer, giving you private grounds to hold your ceremony. There is a road that leads you up close to the private area so it's easily accessible and there is no hiking needed.
Note however that if you decide to get legally married in Ireland, you cannot get married on private ground as the location has to be accessible by the public. If you want to get married at home and hold the ceremony here, then you're good to go. 
Another thing to take into consideration is that the Cliffs of Moher can get very windy. So you will need to dress accordingly. Bringing a cute sweater or scarf and appropriate gear to wear in between photos might be a good idea!
17. Northern Ireland Giant's Causeway
On the Causeway Coast, one of the best places to elope to in Ireland is Giant's Causeway. Accessible by car or bus, Giant's Causeway is a beautiful piece of art created by nature. It is famous for its round stones of different sizes going from the mountains to the water. 
Though the Giant's Causeway itself is a stunning spot to elope, there are several paths that take you above the Causeway when you walk a bit to the sides. On your way, you'll find a range of locations and you can pick the one that feels right as you walk on the path. For the most adventurous of all, Hamiltons Seat is a stunning spot but requires a bit more walking. 
18. The Dark Hedges in Northern Ireland
Better known by the Game of Thrones fans who will recognise it as the King's Road, the Dark Hedges is an alley of Beech Trees that were planted by the Stuart family in the 18th Century. You will find it in County Antrim in the heart of the Causeway Coast in Northern Ireland. This alley gives out a pretty mysterious and dramatic vibe which is perfect for a wedding! imagine standing in the middle, just the two of you, with the white of your bride's dress contrasting with this unique decor. This is a popular spot for taking photos but also to hold a ceremony.
Activities for couples in the area: Holding your elopement at the Dark Hedges also allows you to visit further Northern Ireland attractions such as the Bushmills Distillery, the Giant's Causeway and Dunluce Castle.
19. Northern Ireland Dunluce Castle for an Ireland castle elopement
If you are looking for castles to get married in Ireland, Dunluce Castle is one of the coolest spots to get hitched! Dunluce Castle is a medieval castle located in Northern Ireland in Bushmills, County Antrim. The castle is now in ruin and is a popular touristy spots. The great part is that though it is famous, most tour buses only stop for a few minutes on the side of the road so there isn't actually that many people visiting it.
You can access the castle through a bridge that connects it to the mainland. This is the perfect place to elope if you like the ruin vibe and if you'd like getting married in one of the most historical places of Northern Ireland. Here you'll be surrounded by green grass, views on the coast and peace!
Eloping in a national park in Ireland
Ireland is home to six national parks which are absolutely gorgeous and great elopement locations! Let's check them out.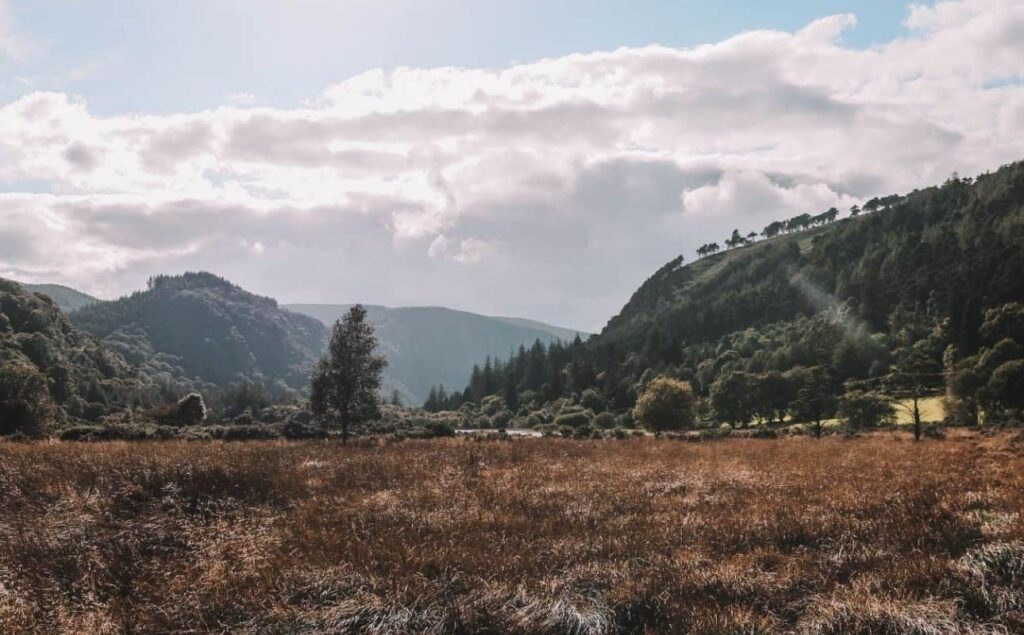 20. Wicklow Mountains National Park
The Wicklow Mountains National Park is located about an hour drive south of Dublin. It's both absolutely stunning and convenient as it makes it easy for you to land in Dublin and reach your location easily.
The park is quite wide offering endless locations for elopement ceremonies. Some of our favourite spots are the following:
Glendalough and the Spinc trail: the Spinc is a hike that splits into several hikes, some easier than others. The Withe Spinc trail takes you to the top of the mountain with views on the Glenealo Valley. Out there, we've seen deer, and loved the incredible view. It's quite the spot to get hitched if you ask me! 
Powerscourt House, Gardens and Waterfall: The Powerscourt House, also located in Wicklow, hosts weddings in the hall of the stunning house. After getting married there, you can enjoy the gardens and take elopement photos at the stunning waterfall.
Other locations to get married at in Wicklow National Park include the Devil's Glen walk, the Upper Lake beach and one of our favourite hidden gems =: Cloughlea Bridge. Cloughlea Bridge is actually quite hidden off of the road and very few people know of its existence making it a more quiet elopement location!
For more Wicklow Mountains elopement locations, you can check out our detailed post here.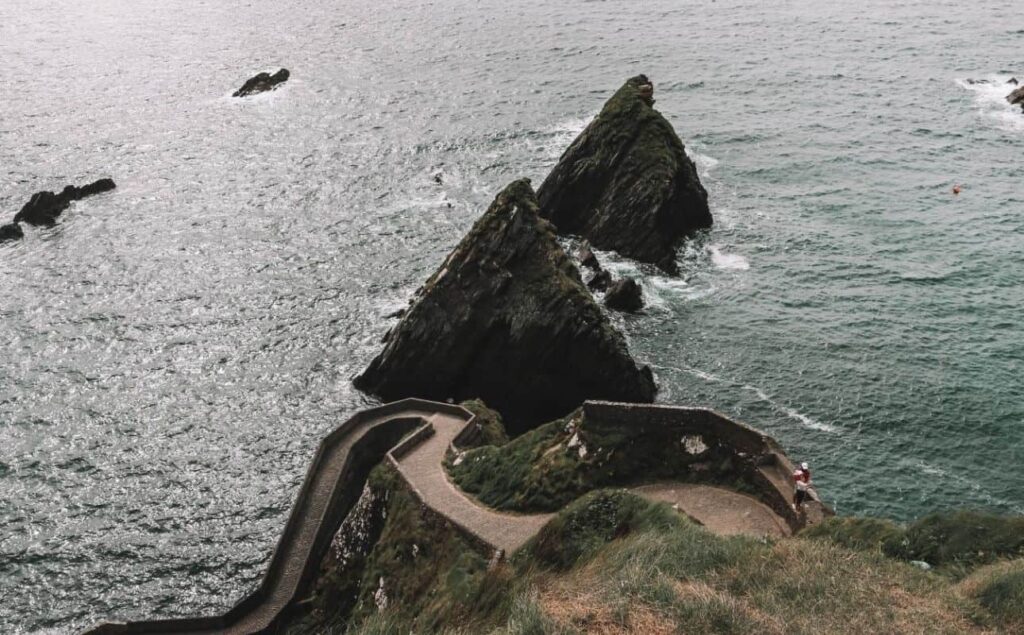 21. Killarney National Park
Killarney National Park is located in Kerry in the South West of Ireland. If you decide to elope in Killarney National Park, expect to be surrounded by mountains, lakes, a lot of greenery. The park is absolutely beautiful and also welcomes lots of wildlife including deer. 
Top locations to elope to Killarney National Park include Ladies View, Muckross Abbey and Ross Castle. Ladies View is one of the best viewpoints of the park and offers vistas on the Ladies, a chain of thee mountains. Muckross Abbey will give you the option to get married on lush green grounds of a former monastery dated back to the 6th Century. Ross Castle is a 15th Century Irish Castle in ruins but still standing making for a typical Irish elopement. 
Though Killarney National Park is one of the best wedding venues in Ireland for elopement, keep in mind that the weather in Kerry is mostly rainy, hence the lush green grounds. To remedy this weather, we recommend scheduling your elopement in the morning and then staying flexible. The best light sometimes comes out after a couple hours of rain and delivers sun for the rest of the day!
Otherwise, our best advice is to accept the rain as  nature blessing your marriage. Pick up a couple of cute transparent umbrellas, pick a wedding dress with long sleeve and be ready for the best day of your life! 
22. Connemara National Park
From Kylemore Abbey to the lakes and the sheep, the Connemara National Park is one of the best Ireland elopement locations. It's perfect if you love nature, and want a mix of mountains and lakes for your elopement background.  We visited the Connemara several times and loved it each time. There is also opportunity to rent an Irish cottage and really enjoy your first few days as newlyweds, away from the hustle and bustle of the world.
One of the best places to be eloping in Ireland's Connemara National Park is the Delphi Lodge. This lodge is nestled at the feet of the mountains close to the lakes, sheep and with crazy views. It's the perfect place to have a quiet wedding where you can focus on each other. 
Other wedding venues in the Connemara include Ballynahinch Castle and simply getting married on the grounds of the park, whether that'd be near a lake, in the middle of horses and sheep or at the top of a mountain. 
23. Ruins in the Burren National Park 
The Burden National Park is located south of the Connemara National Park and is easily accessible from Galway. It's a perfect elopement location as it will allow you to be close to other points of interest such as the Cliffs of Moher. 
The Burden National Park is quite different from the Connemara National Park. In the Burren, you will find wide fields of grass and other moss with rivers, wild flowers and winding roads. The Burden is mostly flat and empty which is great if you want an intimate ceremony. Though it can be bit of a trek to get away from the road (the grounds are very much uneven), it is definitely worth it to feel like you're the only ones on the planet!
The Burren National Park is also home to several ruins which can also be a great spot for a ceremony.
Best places to stay for an elopement in Ireland
Eloping in Ireland has got to be made even more magical by staying in incredible romantic places. Check out our favourite here:
Best romantic activities for couples eloping in Ireland
There is a lot of things to do for couples who elope in Dublin. To make your life easier, we tested them ourselves while living in Dublin and created a detailed list here.
In the rest of Ireland, we recommend the following activities: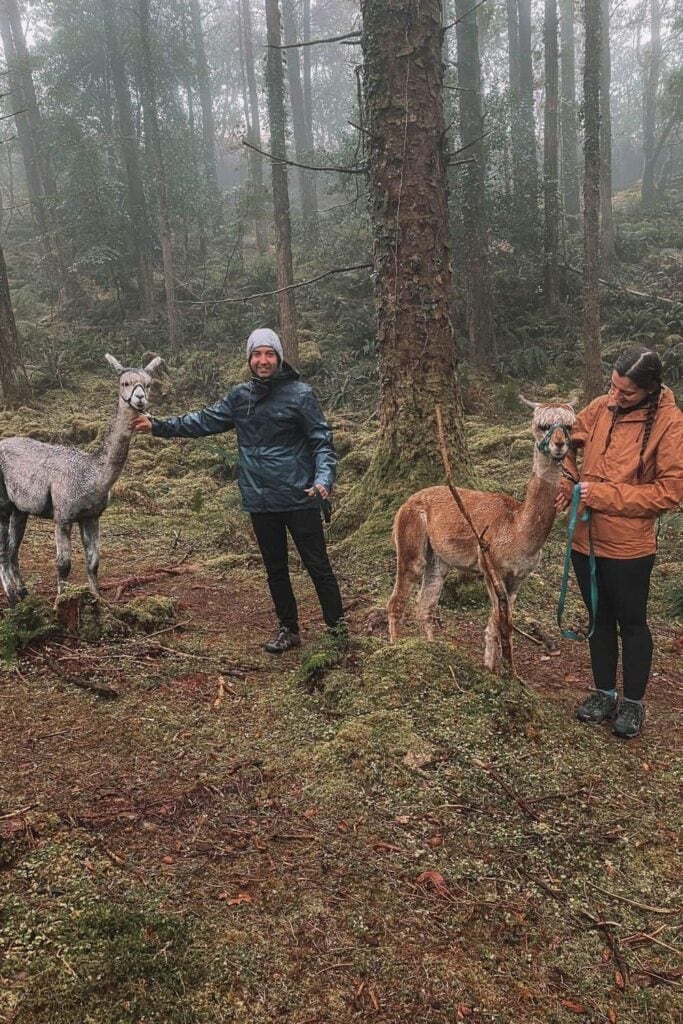 Best time to elope to Ireland for the weather
If you decide to go for an elopement wedding in Ireland, you will need to be prepared for the Irish weather. 
If you're wondering which time of the year is best to elope to Ireland, know that, beside the financial considerations we've set out in one of the next sections, all year round works for elopements.
The weather in Ireland is pretty mild and somewhat the same throughout the year with small variations. In the winter, temperatures rarely go below 4-10°C and in the summer, they rarely go above 20°C. All year round, we experience a mix of rain, sun, wind, sometimes all at once, with the wind being pretty much a constant through the weeks. 
Don't get yourself tricked. Though we do get higher temperatures in the summer (sometimes), they never last more than a couple of days and in our experience, summers can be pretty rainy and grey. However, spring and fall are usually more promising with more clear days on average and nicer sceneries. In spring, trees and flowers are blooming while in the fall, elopement locations like the Wicklow Mountains are flourishing with yellow and orange colours. 
It is also difficult to predict the weather in advance. After a year of living in Dublin, we stopped looking at the weather forecast as it would always fail us! Your best bet is to pick a time of the year that suits you and your finances and be ready to roll with the weather on your special day. 
There is no need to read eloping in Ireland reviews to know that, by eloping in Ireland, you have high chances of getting married on a grey and windy day, which makes for gorgeous photos! The vibe the weather gives can be absolutely stunning and dramatic especially in places like the Giant's Causeway or the Dark Hedges! 
If you would prefer some sun on your elopement day, try booking your Irish elopement around May or June and at sunrise rather than in the afternoon. At that time of the year, the sun usually shines more in the morning while the weather tends to turn in the afternoon. By booking your elopement in Ireland at sunrise, you'll have better light, better weather and less crowds!
Cheapest time to travel to Ireland 
If you decide that eloping in Ireland is your dream wedding and you want to take the jump, you need to know what the cheapest times are to travel to Ireland. 
In the past few years, Ireland has become more expensive especially in terms of hotels, accommodation, and rental cars. These are expenses that will likely be covered by an elopement package though so they might not affect you as much as other regular tourists. 
Flights, in general, can be found for reasonable prices if you book a couple of months in advance, which is quite practical for an Ireland elopement. Note also that there are several direct flights from Dublin to the USA including to New York (Newark and JFK), Boston Orlando, Chicago, Philadelphia and DC. Of course, if you are coming to elope in Ireland from Europe, there are numerous direct flights including from Greece, France, Luxembourg, Portugal, Spain and more. Direct flights, on top of being handy, also tend to be cheaper!
There are three periods during the year that you should avoid eloping in Ireland at. The first one is St Patrick's Day which takes place on March 17th every year. Though it's supposed to take place during one day, festivities often last for at least the whole weekend and cities like Dublin and Galway are drowning in people. It's a festive time for Ireland that gets very busy all around. Because the festivities attract people from all over the world, everything is outrageously priced! Hotel nights raise to €1000 while food, drinks, and rental cars are through the roof as well. For that reason, it may not be the smoothest time to come elope in Ireland.
Another time to avoid eloping in Dublin, in particular, is Christmas. At that time of the year, the city gets a bit crazy and I wouldn't recommend it for eloping. On top of the crowds, it's a time that gets pretty expensive, especially in terms of flights, all over the world. So it might not be the best time to elope to Ireland financially. 
Finally, Easter is another time to avoid. Easter weekend in Europe usually means that people get a bank holiday. By consequence, this also means that lots of people are traveling which automatically increases costs of flights, accommodations and more. Easter weekend is a big deal in Ireland and its neighbouring countries. With the crowds and increasing prices, it's best to avoid that time to elope in Ireland!
How long is a typical elopement in Ireland ?
A typical elopement in Ireland lasts about 6 hours though this can be modified depending on your package and organizer. These six hours usually includes everything from getting ready to the end of the ceremony. 
Best airports to fly onto to elope in Ireland
There are two international airports on the island of Ireland, one in Northern Ireland and one in the Republic of Ireland. In Northern Ireland, you can land in Belfast which is a small airport close to the city. It's perfect if you would like to elope to the Giant's Causeway, the Antrim Coast, Dunluce Castle or the Dark Hedges. 
If you would prefer to elope to the Republic of Ireland, then Dublin airport is your pick! Dublin airport has got two terminals and connects to most destinations, at least more destinations than Belfast airport. Dublin Airport is located about 20 minutes from Dublin City. From the airport, you can take the bus for a few euros, a taxi or a rental car and then be on your way.
Note that you absolutely can fly into each airport even if you get married to the other's country. Indeed, though Northern Ireland is part of the UK, both Northern Ireland and the Republic of Ireland have agreements for the free circulation of people under the Common Travel Area. This means that you can fly into Dublin airport and then drive or bus to Northern Ireland without needing a visa. Though this applies to most people, we would recommend checking the terms of your own visa to be sure. 
Should you elope in Ireland on a weekday or the weekend?
Having lived in Ireland for over three years, we recommend eloping in Ireland on a weekday. Weekends in places such as the Wicklow Mountains or Kerry are always filled with locals and it is sometimes so crowded that cars have to line up to find parking. This would not be ideal for an elopement. Note also that a lot of places in Ireland are always filled with tourists but more so on the weekends. 
Weekdays are your best bet to find yourself in a gorgeous scenery with the least amount of people possible.
What to wear when eloping to Ireland
What to wear for eloping to Ireland is quite the tricky question! After years of living in Dublin and having tried all the combinations of clothes and outfits possible, we both came to the conclusion that layering was the way to go! 
Ireland can get four seasons in one day at any time of the year. We sometimes would get the same weather in July than in February which for most people makes absolutely no sense but is absolutely normal for Ireland.
As such, eloping in Ireland might trigger the question of what to wear and how to deal with the rain, the wind and the unstable weather. What you should wear during your Ireland elopement will vary depending on the season and the location.
Eloping in Ireland in the winter
In the winter, Ireland gets cold and windy. We would recommend wearing a wedding dress that you can manage in the wind which means possibly avoiding too long of a train on your dress. Sleeves would be appropriate as well, and we would recommend bringing a jacket, especially if you end up getting married in the snow. For the groom, a tweed suit is a great option. For both the groom and bride, don't forget the option to layer warmer thin clothes under your outfit. Sometimes it makes all the difference! Winter is also when Christmas lights and events are up in Dublin so that can be a pretty magical time to elope to Ireland!
Do you need to hike to elope in Ireland?
If you need to hike to reach your elopement location in Ireland, then we recommend packing your dress, suit and shoes in a backpack and wearing your usual hiking gear to the top.
What shoes should you wear to elope in Ireland?
If your elopement location is easily accessible, then you can wear your wedding day shoes. If you need to hike, wear hiking shoes to reach your destination and change once you've arrived.
Sometimes your elopement location can be quite rough with rocks to climb, rivers, and water. In that case, the bride may want to wear comfortable shoes such as converse or thinner hiking shoes under the dress. You'll be comfortable and the dress will hide them so you won't be able to tell on photos!
Though these are good outfit tips for your elopement in Ireland, remember that this is a once in a lifetime event and that at the end of the day, you should wear what makes you feel good to your elopement. If you want to be comfortable on a rough landscape, wear comfortable clothes. If you don't mind suffering a bit of from the cold because your love is so warm, then be it! just remember to have fun!
How much does it cost to elope in Ireland?
You may be wondering, how much is it to elope in Ireland? We'll be the first travel couple to tell you that budgeting any trip is essential and that you should absolutely think about your budget, what you want and how you want it to come together. Not everyone has the same priorities. Some people really want a videographer while others would rather pay for a friend to accompany them. What's great about eloping in Ireland is that you can either plan it yourself or customise your own package with a professional. Packages offer options with budget wedding venues Ireland, cheap weddings Ireland venues and more expensive ones so there is something for everyone.
Though every couple's budget will look different, we have put together a rough estimate of expense for the following categories:
All-inclusive package for eloping in Ireland: between $2,000 – $22,000
Photographer: $2,000-$5,000
Videographer: $2,000-$5,000
Flowers: $250
Hair and Make Up: $300
Suit and dress:$700-$1,000
Example 12 hour elopement package: $7,300
Location permit: $0-$300, for example Dunluce Castle is one fo the highest budget wedding venues Northern Ireland offers
Celebrant/Officiant: $800
These costs are only estimates and they will vary especially if you decide to book an elopement package.
Elope in Ireland packages and elopement planner Ireland
Whether you need an Ireland elopement planner or to purchase an all-inclusive elopement packages Ireland will depend on your circumstances.
Do you need any of the available Ireland elopement wedding packages?
For example, if you are already legally married in your home country, you may be able to organise your own elopement to Ireland as you won't need to take care of the administrative and legal part. If you only intend to have a ceremony in Ireland with an exchange of vows and some photos taken, you can arrange for you own location and hire a photographer. Elopement photographers in Ireland can often help you with the location and with finding an officiant if you wish to have one. As you will be legally married in your home country, that's not an absolute must though.
Alternatively, if you wish to legally get married in Ireland, we would recommend going with one fo the available Ireland wedding packages. This will make your life simpler and also ensure that everything is in order legally. 
Where can you find an elopement package?
In Ireland, elopement packages are either put together by wedding planners, elopement planners (who specifically focus on elopements), photographers and sometimes, venues themselves. 
Photographers, for example, know a lot of the vendors for hair and make-up, videography, locations, etc so they are able to build packages and amend them to suit your needs.
How much do elopement packages cost in Ireland?
All inclusive wedding packages in Ireland for elopement can range from $7,000 to over $20,000. That said, you can also find cheap elopement packages Ireland, especially if you just need coverage for 6 hours and have no guests with you. 
What are the packages available?
In this section, we've listed a few Ireland destination wedding packages and elopement packages Northern Ireland style that can get you started on your research:
This company offers a wide range of elopements packages for all sorts of locations including castles, cliffs and all inclusive wedding packages Dublin. They have some cheap wedding packages Ireland style with prices as low as €2,000. 
Rob from Epic Love Photography: based in northern Ireland, Rob specialises in couples photography and has a couple of wedding for two packages Ireland available starting at $6,000. An all inclusive elopement with Rob starts at $10,000.
Amber also offers elope wedding packages abroad including in Ireland. She helps you plan your elopement from A to Z and will also help you choose your destination according to your wants and needs. Whether you would like one of the couples only wedding packages or have a couple of guests with you, she'll help you schedule everything
Eloping to Ireland Q&A
Is eloping different than getting married?
Eloping can be as similar or different to getting married as you want to make it. The traditional definition of eloping is to "run away and secretly get married without any friends or family". However, that definition has evolved with times. With weddings getting more and more expensive and stressful, numerous couples turn to elopements. 
When choosing to elope, couples usually do so to bring forward the true meaning of their wedding: promising love to each other rather than wanting to impress family and friends with an outrageously expensive wedding. Most elopements and all inclusive wedding packages Ireland offers also  allow for the couple to bring a few guests. 
Where is the easiest place to elope?
The easiest place to elope will vary depending of your country of origin. The easiest place to elope is often one that doesn't require a visa, a notice of registration and that isn't too expensive. From an administration perspective, it's easy to elope pretty much anywhere as long as you get the official paperwork done in your home country.
– SAVE THIS POST –
Any questions on this guide on eloping in Ireland? Drop them in the comments or on insta @twolostexplorers and I will get back to you asap.
Did you like this post? If you liked this post, don't hesitate to share it by using the share buttons on the side.
Want to save this post? You can pin the following images on pinterest to save this post


[ad_2]

Source link